Introducing The Gantry Garden
Posted by Regent's Place on 14th May 2019 | comments
It was always going to be a challenging project for Global Generation, planter boxes on a scaffold platform - not just scaffold but a canter-levered gantry.
This is an area where the Lendlease construction site offices are located in the middle of the The Regents Place commercial campus, which is owned and run by British Land. The idea to involve Global Generation was fuelled by a genuine desire from British Land and Lendlease to improve sustainability and wellbeing on site and a commitment to connect the campus more actively with the wider community. An inspiring idea and not so easy to bring to life, given all the pressures and necessary health and safety constraints of a working construction site.
They didn't get off to a flying start, a few obstacles had to be overcome and the weather was against them too.
In Glen's Words:
Why do you want planter boxes on a scaffold? What's the point?' we kept getting asked.
I was beginning to wonder myself as the rain dripped off my hard hat collected along my
collar and ran down the back of my neck. Alex, Julian and Emma from Lendlease cast
spells and wove some magic, the scaffolders from Benchmark went above and beyond
supplying us with all the boards we would need.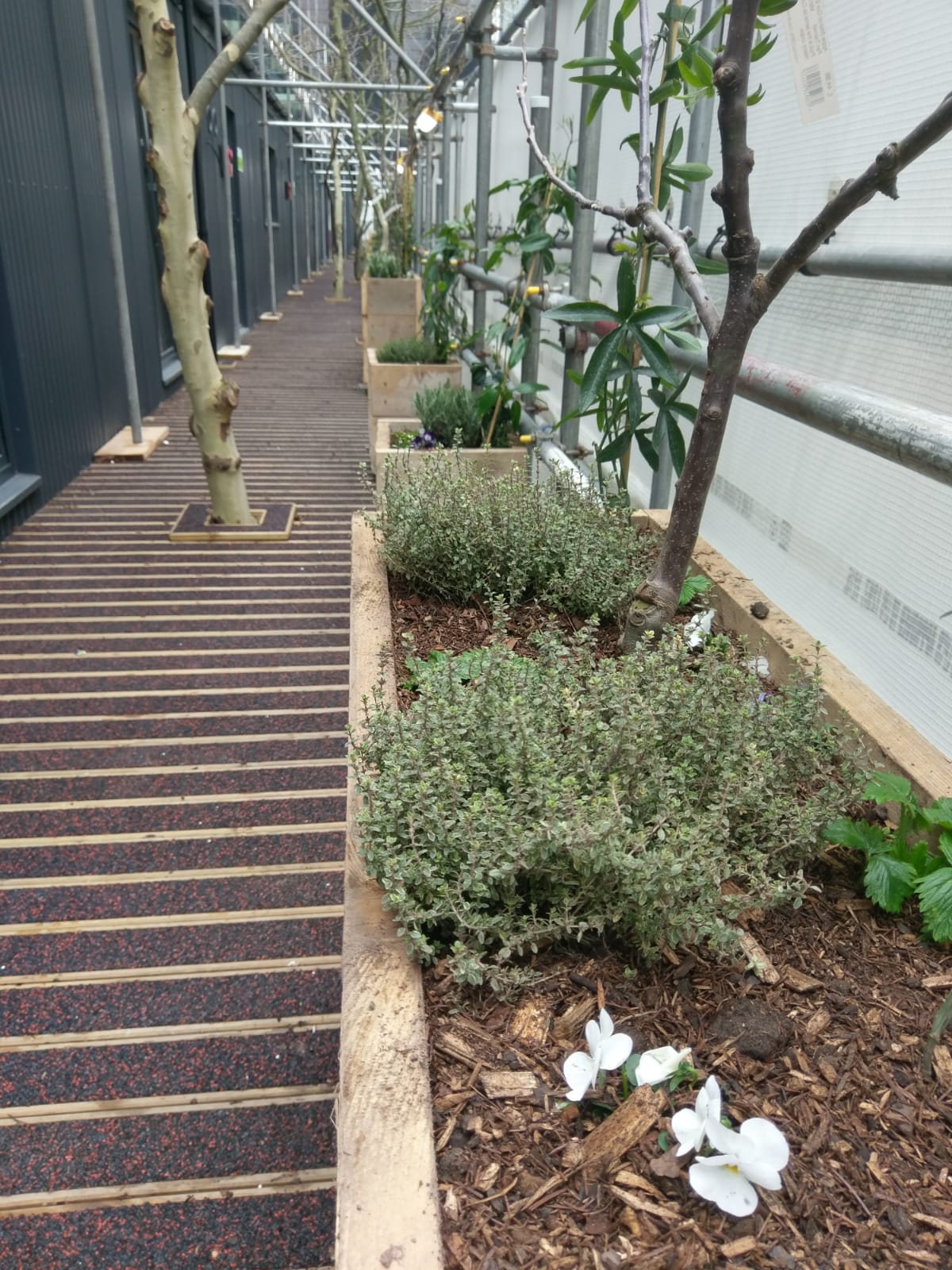 The client site office was a place to warm ourselves; the tea and coffee and chat was much appreciated.
Julie and Denise from the Global Generation team planted up the boxes. "The planters you've made look great!" one of the scaffolders said sliding another plank on to a pile of boards "I'm gonna make some like that...Well, I'll have no trouble getting the boards" he laughed.
We talked though the basic idea of the planters the best screws to use and how to build one. A trickle of people coming from the site offices continued to admire and ask about the plants and planters boxes. John from the client office was particularly encouraging, photographing the planter boxes and explaining he could get his wife to make a few. There is a request from those in the client office, that if there are any plants left over they would like to have some in small pots on their desks. The flowers and planter boxes will become a fantastic wildlife habitat drawing in bees, insects and birds.
Green spaces on scaffold a waste of time? I don't think so and I believe we have a few converts.
A special thanks to everyone working on the Lendlease construction, from Charles and Rad on the front desk to John working the hoist, and all those in between.
Tweet